Handiflight around the world, the first in history !




© Revillard
Handiflight's team is made up of two experienced instructor pilots, who will be joined for various stages of the journey by approximately 15 other disabled - mostly paraplegic - pilots from all around the world. It's not about breaking records, although the challenge alone is a daunting one. It's actually about showing that it is possible for a disabled person to fly a plane solo, thanks to a simple lever which bypasses their handicap by allowing manual operation of the plane's rudder pedals.
Guillaume Féral
Guillaume Féral was born in 1960 in Tananarive, Madagascar where he lived until the age of 13. In these bygone times, he became an aviation addict. In 1985, he crashed on his second solo flight and became paraplegic. After a two-year physical rehabilitation, Guillaume began to work in a French Bank. In between, he gets married and starts a family; he is the father of three kids.
It took him 4 years after the glider accident to resume flying. He later on meets Dorine Bourneton, a young paraplegic pilot who was also injured in a crash. Dorine introduces him to aviation licensing for disabled persons. Guillaume also meets Sarah and Daniel Ramseier the founders of Handiflight during their first fly-in. Guillaume finds himself lucky enough to have been solicited as one of the core pilots for the Handiflight Around the World project.
« Becoming paraplegic has been for me a "fantastic disaster". This contradiction is not just provocation; it showed true in many aviation experiences I've had so far and it is true once more in this opportunity that I was given to participate as a pilot in the Handiflight RTW project. »
« This adventure will also help us convey the message of Humanity and Inclusion and increase their capacity to help those - especially the children - whose life has abruptly changed heading after being stricken by a major injury. »
Mike Lomberg
Mike Lomberg grew up in South Africa. Following the completion of his schooling he joined the South African Air Force to train as a pilot. In 1990, Mike sustained a spinal cord injury as a passenger in a motor vehicle accident and becomes paraplegic. He was unable to continue his test flying activities as a pilot for a while, but still had different management roles.
Later, he joined a small company doing development of large scale solar power generation projects in South Africa. At around this time he also purchased an aircraft, in which a friend installed hand controls. He also came into contact with Handiflight.
In February 2018, Mike accepts to take part in the Handiflight project:
« The opportunity to participate as a pilot in the Handiflight project is a way in which I hope to use my love for aviation, and the opportunities it has given me, to inspire other people to break down the barriers about what is possible if one allows oneself to embrace the seemingly impossible. Sometimes all it takes is a changed way of looking at things, or a small adaptation and suddenly the potential and passion can be given wings and fly. »
« It will be a tremendous privilege to support and hopefully communicate the underlying message of Handicap International: Humanity and Inclusion. When we focus on our common humanity and provide pathways to inclusion, then we provide the will for everyone to follow their own dreams and imagine a fuller life. »
SUPPORT THE INCLUSION OF PEOPLE WITH DISABILITIES NOW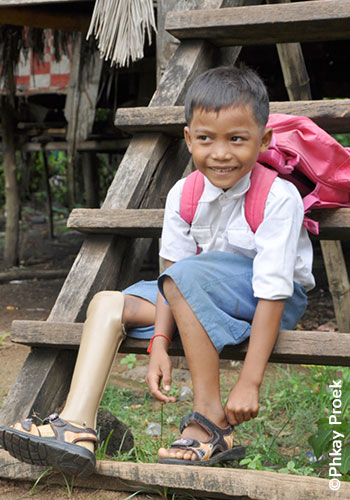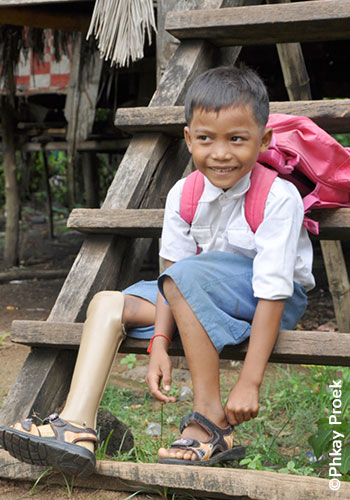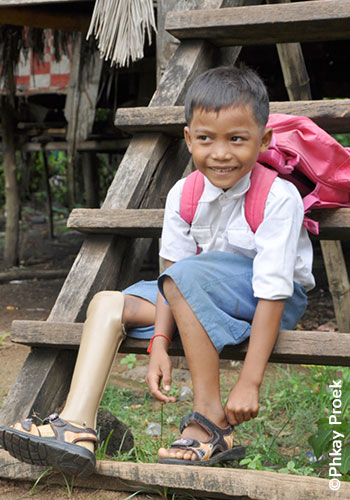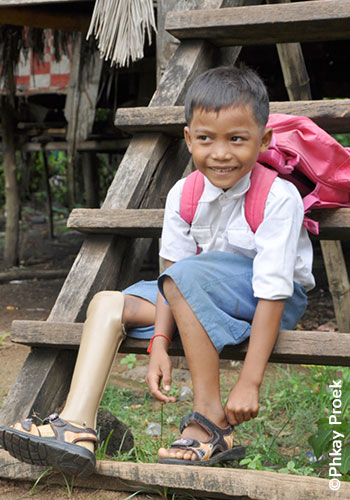 © Phkay Proek | HI
THE IMPACT OF YOUR SUPPORT AND DONATIONS
The donations entrusted to us will be used to support inclusion projects for people with disabilities. Here are some examples of your donations at work:
CHF 58: equipment for the fabrication of a prosthesis
CHF 100: rehabilitation or physiotherapy sessions
CHF 125: clearance of mines (150 m2 of land)
CHF 246: wheelchair for a child
CHF 450: development of a school to accommodate disabled children